Welcome to WRAPS 2018
Waste Recycling Awareness Project for Schools
What is the Waste Recycling Awareness Project for Schools (WRAPS)?
We see the latest news and it helps us understand that there is no "away" when it comes to non-recyclable plastics. Every piece of plastic that's been made will be polluting our world for hundreds of years.

The problem has sneaked up on us. For many years we were led to believe that when we put our plastic into the recycling bin it went off to be recycled , but did you know, that is true but only a third? The rest is shipped to the Far East where it can end up causing even greater environmental problems.
it's only in the last couple of years we have become aware of the problem in our oceans, on our streets. So what can we do ? banning plastic straws is just a drop out of the ocean! But with the charge put on carrier bags we have begun to take responsibility for our plastic consumption.

Yet walking down the aisles of your supermarket you realise just how important plastic has become in our everyday lives…. It's a great material, preserving sealing and protecting our food… as much as we would like to do away with it we can see that we could barely manage without it. Plastic  is as much a part of part of our daily  lives as the motor-car, electricity or the internet…
Fortunately… we have a creative, global solution to this global problem!
Introducing…
How do you make an eco-brick?
How do I get involved?
Globally we are all in this together – all over the world our throwaway society has become so used to single use plastic. In poor under-developed countries the plastic problem is ten times worse. They have no waste collection, so  the rubbish is burnt or dumped and finds its way into the rivers and sea.
Our support to them is to fund the Ecobricking enabling children to exchange their Ecobricks for educational materials to help them at school..
It's a win – win — they have cleaned up their environment and will  have a better chance in life.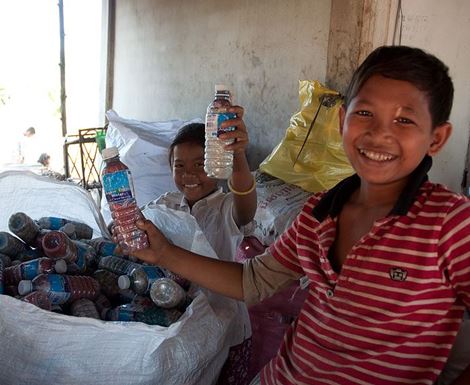 Are you a teacher and want to get your school involved?
Email cambodiacraft@gmail.com or call us on 07590 513 127
Ecobricks are an ideal project for schools, with schools in the North West of England are beginning to take part. The recycling project encourages environmental awareness, responsibility and creativity.
LATEST NEWS
Schools are getting into Ecobricking this month, Its created a lot of interest with children from 3-16 getting  involved: At Our Lady of Mount Carmel Infants in Blackley (above)  the children are learning about  recycling [...]